November 20, 2015
Food & Your Health 
Essays & Recipes – Collection 1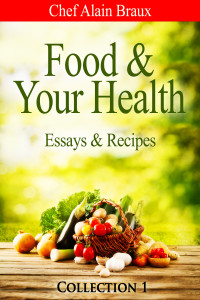 Available at Amazon (click on book cover above) as well as Barnes & Noble Nook, Apple iBooks, Kobo, Oyster, Page Foundry and Scribd.
Reviews
Chef Alain subliminally educates the reader on the health benefits of his sensible recipes made with nutrient dense ingredients. His essays gift the reader with simply extraordinary information as he travels through his personal culinary story.   He focuses on using real foods, suggests contemporary practical & convenient techniques, all the while addressing non gluten foods for Celiac Disease, food for Autism, GMO avoidance, cholesterol-lowering foods, free range vs cage free, antibiotic-free beef, the cost of not eating in season, and much more. He charmingly sneaks in "I told you so" lectures & GMO warnings!
– Executive Chef – CEO Jocelyn Lee: Gourmet in Motion / Culinary Product Development, Food Service Operations MA / Regulatory Compliance, HACCP Coordination https://www.linkedin.com/in/gourmetinmotionjlee
Once again Chef Alain Braux shows us his extensive knowledge in healthy cooking and passion for food education. Impressive essays and recipes for both professional and culinary hobbyists.
– Executive Chef Jefferson Anderson. Healthcare/ Senior Care Sector
"Chef Alain has combined current nutrition information with his culinary expertise to create a culinary masterpiece. May I personally suggest to the reader his 'ratatouille' recipe. Combining sound nutrition, superfoods and creations that are delicious – now that is smart indeed"
– Kathy Smart, RNC, RSNA, PTS, HTC. Best Selling Author, TV Show Host. CEO of  Live The Smart Way 
Another thoroughly researched and highly relevant tome for the times from Chef Alain Braux, an expert on Food as Medicine.
– Chef Christopher Daly. Executive chef – Founder of Hip4Kids
This is not your typical book. But that is to be expected, because Alain Braux is not your typical Chef.  Chef Braux is a lighthearted, direct, intelligent, wise and knowledgeable man. He is often funny and yet completely serious at the same time.
The same can be said for this book. It is lighthearted, direct, intelligent, funny, and yet quite serious.
Moreover, this book is as chalk full of knowledge from a strong and proud tradition of French cuisine as it is from centuries-old tried-and-true nutritional wisdom. And if you have ever heard his podcast, the book reads very much like a conversation with Chef Braux. It is endearing, sometimes delivering information – even life-learned philosophy – in the form of rhetorical questions. That said, it is by no means confusing or hard to understand. Quite the reverse in fact.
Another atypical aspect of this book is the breadth of subjects covered. The format in which it is written lends itself to flexibility, enabling Chef Braux to cover everything from how to shop more effectively to how to keep your employees happy while they work. And all the while Chef Braux manages to stay focused on you and your life and your health.
And: Yes! There are tons of recipes in here (over 100 pages). In fact this book could easily have been split into two books, the first being focused on nutritional wisdom, and the latter exclusively full of yummy recipes.
Given Chef Braux's impressive background (as an award-winning Executive Chef and Nutrition Therapist; an Amazon.com best-selling Author; a speaker and panelist on food allergies, Paleo and GMO issues; an expert in food allergies and diets; and, perhaps most importantly, an expert in how to eat to extend your life, especially for those stricken with disease), Chef Braux's book "Food and Your Health" can best be summarized in one sentence, taken from the first few pages: "Let me tell you how I see my food."  And I will tell you this: the way he sees food is a perspective that will leave you motivated, enthusiastic, lighthearted, and with a healthy attitude toward food (literally and figuratively), and for all of us – not just those struggling with their relationship to food – that is a good perspective.
This book comes with my highest recommendation.
– Joe Salama. Author, The Paleo Miracle & The Tao of Paleo
Alain Braux's latest book 'Food and Health continues his line of quality publications. This is undoubtedly a useful handbook for anyone who is following Paleo and longs for that authentic French taste.
Alain gives us a glimpse of his own path to perfection that started when he was young learning how to cook the tasty yet inexpensive French favorites from his grandmother. He also has an extremely useful section on using herbs typical to French cuisine.
One of the most surprising parts of this book is the section on chocolate where Alain explains the health benefits of eating certain types of chocolate (YES really!) and gives 14 solid reasons why chocolate is good for you. Plus he reveals his 'Best ever Hot Chocolate Recipe'. It is well worth getting his book for that alone!
The medical profession is constantly trying to tell us how bad cholesterol is and frankly the cholesterol story has been responsible for one of the largest profit making range of medicines since the modern pharmaceutical industry came into being. Happily Alain debunks this smoke and mirrors con trick and gives you the real truth about cholesterol and shows us it is nothing like the menace it has been portrayed as and is in fact absolutely essential to your body's proper healthy function.
And even if you do think cholesterol levels are important then Alain has that covered as well by going through the natural ways and foods you can partake of to reduce those numbers.
Another of Alain's myth busters is on the subject of sugar. And again you get solid well researched information about this ubiquitous product that undoubtedly does us no good whatsoever while at the same time shows you healthy ways to replace it when your sweet tooth starts to sing.
Over the last few decades' fats have had what can only be described as bad press. Here again Alain digs deep and gets right into the subject revealing the hidden truths and uncovering the lies and falsehoods that vested interests have been feeding the mainstream media for so long. Bottom line… Well among many things Alain will prove to you is the fact you can eat butter with no worries at all and in fact it will do you good.
It is surprising how many health problems are connected with what we eat and yet I find it even more surprising that doctors get such little training about nutrition – in some cases they have had less than a single day in the whole of their training! One health condition that is conclusively liked to unbalanced nutrition is that of autism which is why Alain has turned his keen mind to the problem and uncovered a whole mountain of home for people suffering from this problem – all addressed by dietary corrections – that have been shown by people like Dr Shauna Young to produce life changing result.
One of Alain's long time areas of expertise is in how nutrition affects company profits. Yes it's true… Companies that make a small investment in helping employees eat better can make big differences to their bottom line.
I've only really mentioned the highlights here and have really left the best bit (to my mind anyway) until last and that's the recipes.
All of the many delectable recipes in this book have what I can only describe as that certain 'Alain Braux' magic. Simply because he has not only made them healthy, he has kept and sometimes even improved on the authentic taste that you expect to find in every single one.
So should you buy this book?
My recommendation is an unashamed YES. If you are serious about using paleo as your road to health then this book is a 'Must Buy' and even if you only like great food then the recipes alone make this book one you should have and refer to more than any other one in your library of excellent food.
– Mark Moxom. Executive editor: Low Carb Mag. Founder: Paleo Messenger.