September 30, 2012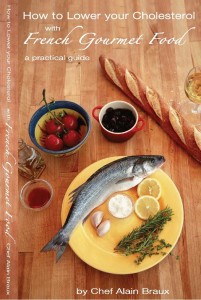 – Did your recent cholesterol test showed your cholesterol levels are too high?
– Did you know you can help lower your own cholesterol with the proper diet?
– Do you want to avoid the nasty side effects of statin drugs?
– Did you know you – yes you – can accomplish of of this while eating tasty food?
– You don't even have to be French chef to cook these dishes. I made it simple for you.
I designed this book to educate you, teach you what's good and what's not good for you to eat. How to read your cholesterol report. What are the healthy and unhealthy ways of cooking your food. I even help you do your shopping. How easy can it be? Find out in this book.
Did you know that this book won:
– Finalist in the Nutrition category at the Indie Excellence Awards.
– Honorable Mention at the New York Book Festival.
I'm a German/Austrian guy who grew up on a rich cuisine dominated by meat, starch, greasy sauces, and…sugary sweets, of course. You can't teach an old dog new tricks, they say. Well, "they" are wrong.
"How To Lower Your Cholesterol With French Gourmet Food" is entertaining and highly educational. And it worked for this "hard head" when it came to giving up comfortable old ways. My new ways taste much better! MORE – Achim Thiemerman
"How to Lower your Cholesterol with French Gourmet Food. A practical guide" is available on Amazon.com. I hope it helps you lower your cholesterol the way I did with this diet. My beliefs is that we can live a healthy life while eating healthy food that tastes good.
I really believe this book should be read by school and college students, to make them aware of what they are doing to their bodies. Chef Alain Braux shows us how we can make delicious appetizing meals that fulfill and do not leave us hungry and in need of a snack half an hour later" MORE – Anna Murray
"A reference book, a meal planning resource, and a cook book – all under one roof. With a friendly and charming writing style, Alain Braux delivers what North America's cooks, restaurants, and school cafeterias *should* be delivering, but don't: a completely healthy and tasty alternative to our overweight culture.
A definite must-have for anyone who loves cooking, and needs a nudge in the right direction if their waste line – or cholesterol numbers – are a little to high. Five stars Chef Alain – good job. MORE – Wolfy/bookreviewdude
All my books are sold electronically on Apple's iBookstore, Barnes and Noble and many more.
Thank you for your interest in my work.
Chef Alain Braux
Please note

: Some of the links on this page may be affiliate links. If that is the case, I receive an affiliate commission if you decide to buy. No matter what, I want you to know that, if you decide to buy this product, YOUR price is not affected. It comes out of the affiliate program, not your pocket.
– A Votre Sante-To Your Health. Chef Alain Braux