October 2, 2012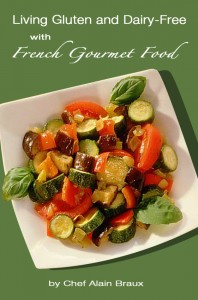 Did your doctor just tell you you have Celiac disease and you just don't know what hit you? Are you panicked because you don't know how to deal with it? Do you even know where to start?
All the answers you're looking for are in my book: Living Gluten and Dairy-Free with French Gourmet Food. A practical guide.
Do you know where gluten and casein are hiding? I give you 12 pages on where to find them in your food.
Do you know what to shop for? I give you more than 20 pages of shopping idea.
Do you know how to prepare gluten and dairy-free food? I give you 80 recipes to get you started.
Are you an old hand at gluten-free cooking but are getting bored with the same old recipes? I have put a French slant on GFCF recipes to add a little "je ne sais quoi" to your dinner. Your friends will not believe that GFCF food can taste so good.
If you're not convinced yet, check out the reviews and comments below and on my book's Amazon page. They might convince you this book IS for you.
By the way, this book has already won:
– Winner! Best "Cookbook – Health" at the 2013 International Book Awards.
– Best Cookbook at the 2012 Los Angeles Book Festival.
– Best Cookbook at the 2011 Paris Book Festival.
– Best Nutrition Book at the 2011 Indie Excellence Awards.

– Honorable mention at the 2011 New York Book Festival.
Won't you take a read?
Enjoy my book and Bon Appetit! Chef Alain Braux
"Living Gluten and Dairy-Free with French Gourmet Food. A practical guide", is offering all people affected by gluten intolerance, Celiac disease as well as children on the autistic spectrum syndrome a way to understand their affliction. My goal in writing this book is to help you deal with it emotionally, give you practical advices on how to face this new gluten and dairy-free world and offer you more than 80 of my favorite recipes. I strongly believe that the foundation for good health is good nutrition. As a French chef I am convinced that healthy food does not have to be boring and dull to be good for you. I believe, based on my many years of experience as a French chef that healthy food can be and should be delicious as well.
In his book, Living Gluten and Dairy-Free with French Gourmet Food: A Practical Guide by Chef Alain Braux, chef Braux merges his philosophy of creating beautiful, delicious and healthful food with gluten- and casein-free cooking.
Living Gluten and Dairy-Free with French Gourmet Food: A Practical Guide will give you all the resources you need to live your gluten-free lifestyle, eating healthful, delicious, beautiful foods. Chef Alain shows you how food can give you vibrant health and fill you with joy and satisfaction. Living gluten-free is still mostly about living. A Votre Santé – to your health! MORE – Becky Rider

"This book contains a lot of information I didn't know like antacids can have gluten – really? I couldn't believe it! Nearly the first half of Living Gluten and Dairy Free with French Gourmet Food is full of practical and necessary information for anyone facing the GFCF dietary challenge. MORE – Maggie Tate
"This book has become my gluten-free, casein-free Bible. It is the most comprehensive collection of helpful information on the subject anywhere. The SAFE and Prohibited lists and appendices have taken the fear out of reading ingredient labels and have resolved many dietary mysteries for me, bringing me closer to being totally gluten-free. How liberating!! The recipes are delightful! Thank you Alain for sharing your ingenuity. The planet just got better." MORE – Liz
"Alain, I cannot thank you enough for the information in your book.  I never could drink milk, but I WAS eating a lot of cheese. I was not aware of Casein. I have been under the weather for quite some time. My feet were swollen up like footballs every day. I had dark circles under my eyes. After studying your book and going on to do further research, I put 2 and 2 together and figured it out. It took about a week and my feet after many long months of the swelling went.. MORE – John Patrick Mahoney
"Living Gluten and Dairy-Free French Gourmet Food" is the second cookbook by Austin Chef Alain Braux. Alain has impressive credentials as a traditionally trained French chef but, even more interesting, is a nutritherapist – a term used in Europe for nutritionists who use only food as a healing medium, as opposed to conventional nutritionists, who usually work with supplements, homeopathy and herbal medicine. Since writing his first book, "How to Lower your Cholesterol with French Gourmet Food", Alain recently discovered that he was gluten intolerant and has gone on to compile his knowledge into a new book for those of us who love good food, more especially traditional French food.
Chef Alain's comment `gluten-free junk food is still junk food' is such an astute observation. He believes we should eat thoughtfully, be aware, and indulge carefully on special occasions. MORE – Gretchen and Rita
And many more… HERE
All my Ebooks are on Apple's iBookstore, Barnes and Noble and many more.
Thank you for your interest in my work.
Chef Alain Braux
Please note

: Some of the links on this page may be affiliate links. If that is the case, I receive an affiliate commission if you decide to buy. No matter what, I want you to know that, if you decide to buy this product, YOUR price is not affected. It comes out of the affiliate program, not your pocket.
– A Votre Sante-To Your Health. Chef Alain Braux