October 25, 2012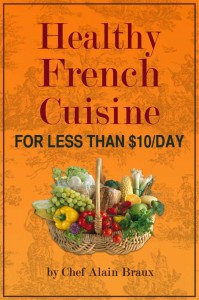 Buy all my books as eBooks on ClickBank, Amazon Kindle, Apple's iBookstore, Barnes and Noble, Inktera, Scribd and KoboBooks.
 Please note: All recipes in this book are gluten and dairy-free as well.
Are you on a food budget?
> Is your food budget a little tight right now?
> Has the economy slowing down stopped you from eating out regularly?
> Are you into eating healthy? Do you still want to eat healthy on a tight budget?
> Do you believe eating healthy is too expensive for your pocketbook?
Do I have the right book to help you!
What if I could prove to you that it IS possible to eat healthy on less than $10 a day per person? Don't believe me? Go to my Amazon book page (click on the cover above) and click on Look Inside. Find my seasonal menu suggestions or my recipes. You will see that all my recipes costs per serving are right there on each recipe.
My weekly menu suggestions come up to less than $10 a day average through the week. Go ahead! Give it a try and see that I'm not fibbing you. If that does not convince you, check out some of the reviews I received below and on my Amazon page.  My book is also available in ebook form. Check it out! I promise you won't be disappointed.
Did you know this book won…
– Finalist at the 2013 International Book Awards. "Cookbook – Regional"
– Best Cookbook at the 2012 Paris Book Festival.
– Finalist in two categories at the 2012 Indie Excellence Awards: Cookbook-Regional and Nutrition.
– Honorable Mention at the New York Book Festival.
– Honorable Mention at the San Francisco Book Festival.
Here's what other people saying about it
Gastronomic delight is really the domain of the French
Preparation and planning, plus the love and care of food are what it's all about when reading a cookbook. With Chef Alain Braux's "Healthy French Cuisine", there is, dare I say it, a certain "je ne sais quoi", that indefinable something, that sets this cookbook apart.
For one thing, this book puts us into the right frame of mind about food. It comes down to the simple, and not the extraordinary elements that make a great meal. This is a remarkable book, in that it's not a "frou-frou" French cookbook, but instead a real life, practical guide for Cooking French Food… MORE

– Mary Lee Johnson
Chef Alain Braux's approach to healthy eating is literally "down to earth" in this delightful and extremely useful guide to balanced, nutritious meals on a budget. With a passion for flavor and fresh ingredients, Braux takes us through an eye-opening grocery shopping experience (including the 12 most contaminated foods in the produce section, and what "natural" really means on food labels), to alternative shopping choices (farmers' markets, growing your own)…. MORE
– Michele
Beyond a COOKbook, Healthy French Cuisine is more of a FOODbook. About half of the book is devoted to nutrition, eating in season, and cooking techniques. My resolve to eat healthy by buying more local, in season produce was strengthened by reading Chef Alain's recommendations… MORE
– Terry
Chef Alain Braux has hit a home run with his "Healthy French Cuisine for Less than $10/Day". Finally a Healthy French Cookbook that has the sophistication for the snooty Gourmand and yet is an intelligent simply guide for the novice cook.
He not only has fabulous recipes that are easy to make with step by step instructions, but he teaches us about the ingredients we use to make these recipes… MORE
– Gayle
And many more HERE
Bon Appetit on a Budget.
Chef Alain Braux
Please note

: Some of the links on this page may be affiliate links. If that is the case, I receive an affiliate commission if you decide to buy. No matter what, I want you to know that, if you decide to buy this product, YOUR price is not affected. It comes out of the affiliate program, not your pocket.
– A Votre Sante-To Your Health. Chef Alain Braux