September 13, 2014
Chef Alain's Weekly Recap – Week 13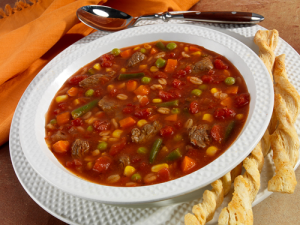 GMO 101 Book Progress
I am still waiting for the print copy of appear on Amazon but the ebook version is available everywhere. See links on this PAGE.

COMING SOON: SPECIAL AMAZON $0.99 EBOOK SALE ON TUESDAY SEPTEMBER 23 BETWEEN NOON and 2 PM TEXAS TIME. SPECIAL PRICE FOR MY FOLLOWERS ONLY. THANK YOU FOR YOUR SUPPORT.
Low Carb Paleo Show with Chef Alain and Mark Moxom
LCPS 020: In this episode, we talk to Shannon Drake, the founder of The Dirt, a Paleo toothpaste powder. Drawing on the principles of the whole food paleo lifestyle – with, clean eating and high nutrient value – she became inspired by a passion for studying traditional beauty secrets from around the world.You can listen to it HERE.
Chef Alain Posted Articles
Two of my GF recipes are featured in Food Solutions Magazine
New my new postings on Facebook here, Chef Alain Braux
Chef Alain's Weekly Recipe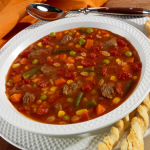 Soupe de Légumes au Bœuf. Beef Vegetable Soup
This is a very flavorful recipe I put together for Peoples Pharmacy. It is very earthy and healthy. If you don't have the time to prepare it tonight, why don't you stop by our store and get a bowl? That was easy, wasn't it?
Servings: 4-6
Prep Time: 15 min.
Cooking Time: 45-50 min.
This recipe is GFCF
INGREDIENTS
1 Tbsp Olive oil
½ White onion, chopped
2 Garlic cloves, chopped fine
½ Celery branch, chopped
1 tsp Sea Salt
8 oz Grass-fed Beef (stew 1" cubed or ground)
1 can (15 oz) tomatoes, diced
5 oz Tomato paste
1 Sweet potatoes, cubed
1 Carrot, sliced thin
1 Zucchini, sliced
8 oz Fresh Green beans, quartered (or frozen)
5 qt organic Beef broth
½ tsp Black pepper, ground
1 Bay leaf
½ tsp Dried marjoram
½ tsp Dried thyme leaves
½ Tbsp GF Worcestershire sauce
½ Tbsp Parsley, chopped
PROCEDURE
1. In a large soup pot, sauté chopped onions, garlic and celery in olive oil until translucent.
2. Add the beef and cook for a few minutes, stirring once in a while until the beef begins to brown.
3. Add cubed sweet potato, tomatoes with juice, sliced carrot, zucchini, green beans, tomato paste, and spices. Sauté all together to get all the flavors blended.
4. Add the beef broth. Bring to boil, simmer for 45-50 minutes or until the meat is tender.
5. When soup is ready, add chopped parsley and GF Worcestershire sauce. Stir in and serve.
Note: This recipe is gluten-free and Paleo. It comes from my book, Living Gluten and Dairy-Free with French Gourmet Food.
Comments?
I you have any comments or wish to be added to my email list, contact me at alainbraux@gmail.com
Until next week, I wish you a great week.
Chef Alain Braux
A Votre Sante – To Your Health
Note: If you like any of my books, can you post a review on Amazon.com?
Paleo French Cuisine   Gluten and Dairy-Free   Healthy French Cuisine   Lower Cholesterol
Thanks a bunch. Chef Alain