July 12, 2013
Paying attention to the quality rather than the quantity of food for good health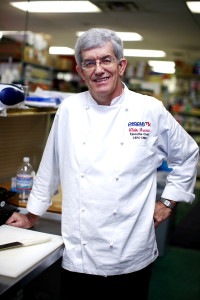 Chef Alain Braux at Peoples Pharmacy
A few years ago, classically trained French chef Alain Braux chatted about the effects of nutrition on personal health with two Austin assistants who happened to be vegetarians.
"I got intrigued," he says. "Wouldn't it be great, I thought, to combine this new interest in nutrition and my experience as a chef?"
So the former chef-owner of Amandine French Bakery traded classes in macrobiotic counseling in exchange for some construction work. Now the executive chef and nutritherapist — a European term — at People's Pharmacy, his goal is to help people who suffer from all sorts of ailments without supplements, homeopathy or herbal medicines.
"Food is my healing medium," Braux, 60, says with a broad smile.
The high school dropout, born in what was then French Cameroon in West Africa, now reaches a growing cadre of followers through lessons, coaching and books in his second language (see his website: www.alainbraux.com).
"My cholesterol had shot through the roof," recalls the wiry, silvery-haired Braux. "So I experimented on myself. I wanted to prove one could do it with diet and no drugs."
Thus was born the first of his four published volumes: "How to Lower Your Cholesterol with French Gourmet Food." Surely that raised some eyebrows in quarters where classical French cuisine is associated with barrels of butter and other cholesterol-spiking ingredients.
Basically, he achieved positive results by returning to the Mediterranean diet — revived from his childhood in southern France — of fruits, vegetables, fish, grains, nuts and olive oil.
Braux grew up mostly in Nice, but also lived for a while with his grandmother on a small farm in Mayenne in the northern part of the country.
"We were very poor," he says. "No running water in the house. But because we were poor, my grandmother grew most of the food: chickens, rabbits, eggs as well as fruits and vegetables in her garden. In those days, there was no need for chemicals. She'd say: Bring me a salad. I'd go into the garden, wash the vegetables. All the ingredients were very fresh. Later, it occurred to me about the connection between food quality and one's health."
A quiet, introverted bookworm — "I was a geek before they invented geeks," he says — Braux was pulled out of school when his father left his mother.
"She put me in a pastry apprenticeship to bring home some money," he recalls. He worked at the august, 150-year-old Swiss-founded Confiserie Auer, making candied fruits, pastries, ice cream and fine chocolates. The adult Braux continued to make such extravagant goodies until last year, including a stint at his former bakery on West 12th Street near North Lamar Boulevard.
"Just because you are a good chef doesn't make you a good businessman," he admits. "And Whole Foods was down the street. We also didn't predict American shopping practices."
After Amandine failed, Braux worked in various fields before landing a job as pastry chef and office manager at the Barr Mansion. Then he taught pastry and baking skills at what is now the Escoffier School of Culinary Arts.
Eventually, People's Pharmacy owner Bill Swail asked him to go through the group's deli and analyze the food, including research into the origins of each ingredient. From there, he expanded his interest in nutritional therapy.
"My typical client is somebody with food allergies," he ways. "I prefer to work with children because it's good to catch them when they are young and still teachable. Then I make a profile and construct a diet that is edible and works for them. The recipes and diet plan can run to 120 or 150 pages."
From thence, Braux issued more books. (Braux's books are available at People's Pharmacy, Amazon, Barnes & Noble, and through his website.)
The award-winning hot-seller "Living Gluten and Dairy-Free with French Gourmet Food" came out of requests from Braux's boss. The book offers social advice, shares long shopping lists and recipes and looks at hidden sources of gluten.
One of the things he learned was that American wheat contains much more gluten than French wheat, which explained his rashes when he ate his beloved croissants and baguettes here, but not back in the home country.
For some reason, "Healthy French Cuisine for Less than $10 a Day," despite winning Braux more book prizes, didn't sell as well.
"Maybe they think I'm lying," Braux says. "I cost it out to the cent. Eating just what is in season, the freshest and the cheapest, and it averages $9.95 a day."
A fellow nutritionist urged him to come up with recipes that avoid grains and legumes altogether. That led to "Paleo French Cuisine," which follows the trend of guessing humanity's pre-agricultural, hunter-gatherer diet.
"Typically, Paleo books are not so much focused on food quality," Braux says. "It's one thing to tell people to eat proteins, fruits and vegetables, but don't tell them what quality to buy … I believe strongly that eating fresh, quality, unprocessed, unsprayed food that's not genetically engineered is extremely important to our health. Basically, if you eat healthy food, you should stay healthy."
Braux typically shops at farmers markets for organic and locally sourced food, grass-fed meat, wild-caught fish, free-range or organic chicken. He urges moderation on serving sizes.
"I would rather you eat a lot less but much better quality," he says. "Americans have been brainwashed to think that quantity is more important than quality. But as much as you eat, your body has not been fed. You stuffed me, but you didn't feed me."
Michael Barnes writes about Austin's people, places, culture and history.
---
Biscuits aux Canneberges et Noix: Cranberry Walnut Scones
One of my favorite breakfast indulgences. While not really French in creation we have adopted this melt-in-your-mouth pastry as ours. The trick here is not to overmix the fat into the flour. This recipe is gluten-free and can be made casein-free. You can use any dried fruit of your choice, as long as it is free of sulfites, a preservative. You can also change up the nuts or use seeds, if you'd like.
Ingredients
– 2/3 cup brown rice flour
– 2/3 cup white rice flour
– 1/2 cup tapioca, corn or potato starch
– 2/3 cup almond flour
– 2 1/2 tsp. baking powder
– 1/2 tsp. xanthan gum
– 1/2 tsp. sea salt
– 1/4 cup butter or margarine, cold and cut in small pieces
– 1/2 cup dried cranberries
– 3/4 cup walnut pieces
– 1/2 cup heavy whipping cream or soy creamer
– 2 eggs, beaten
– 1 Tbsp. honey or agave nectar
– 2 tsp. vanilla extract
– Cinnamon sugar (optional)
Procedure
1. Preheat oven to 400 degrees. Line a baking pan with parchment paper, or spray pan with olive oil spray and dust with rice flour.
2. In the bowl of a stand-up mixer, blend together flours, starch, baking powder, xanthan gum and sea salt with the paddle attachment on slow speed. Add cranberries and walnut pieces and gently mix in.
3. In a small bowl, combine the cream, eggs, agave nectar and vanilla.
4. Starting your mixer at the slowest speed, mix in the butter until it reaches pea size. Add the liquid ingredients and mix only until the dough comes together. Stop the mixer. If needed, finish mixing with a spatula.
5. Using an ice cream scoop, scoop even amounts of the dough and drop onto the baking pan. Make sure to separate them by at least two inches. If you don't mind uneven-looking scones, you can form the dough into eight scones by hand.
6. Press each dough piece gently with your fingers to flatten it a little. Brush with a little beaten egg and sprinkle with cinnamon sugar, if desired.
7. Bake on the middle rack for 12-15 minutes. The bottom should be golden colored when done. Makes 8 scones.
Les Tomates au Four à la Provençale: Oven-Baked Tomatoes Provençale
There's nothing much to say about this classic of Provencal cuisine dish. Made with in-season, beautiful, juicy tomatoes, some people say it's better than … I'll let you fill in the gap.
Ingredients
– 4 large tomatoes
– 1 garlic clove, chopped
– 1 anchovy fillet
– 1 bunch parsley, chopped
– Sea salt and pepper, to taste
– 1 cup gluten-free bread crumbs
– Olive oil
Procedure
1. Preheat oven to 400 degrees.
2. Cut tomatoes into halves. Squeeze them to get most of the juice and seeds out. Place them cut side down in a colander and let them drain further.
3. Meanwhile, crush the garlic with the anchovy in a mortar or small food processor. Add the chopped parsley. Mix well or pulse a few times in the food processor. Salt and pepper to taste.
4. Oil an oven dish. Place tomatoes cut side up and side by side in the dish. Fill each with a spoonful of the garlic, anchovy and parsley mixture. Cover with a generous amount of bread crumbs. Drizzle with olive oil.
5. Bake on the middle rack of the oven for about 15 to 20 minutes until the tomatoes are cooked. Serves 4.
— Bon Appetit!
Chef Alain Braux
Source: http://www.statesman.com/news/lifestyles/chef-alain-braux-food-is-my-healing-medium/nYhj6/