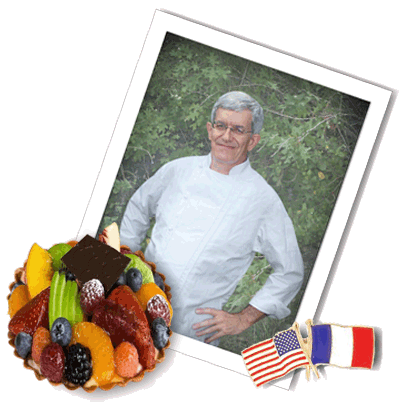 BONJOUR and WELCOME to FRENCH CULINARY NUTRITION
Bonjour! My name is Alain Braux. I am an award-winning French chef, award-winning food and health author and expert in GMO (genetically modified organisms) food issues. I am a Chef by training and a Nutritherapist by passion.
What is Nutritherapy? It's a European term used to describe Nutrition Therapy, the use of food as a way to balance one's health. Unlike nutritionists who work primarily with supplements, I focus on the use of proper nutritious food and a customized diets to make my clients live a better life.
Feel free to read my Testimonial page to read feedback from some of my past clients.
I firmly believe that "food" as it is offered in this country – mostly processed – is the cause of the majority of our health troubles. So I offer my clients help in allowing their body to heal itself by creating a custom-designed diet avoiding specific allergens while using fresh, natural foods in a well-balanced choice of delicious recipes.
How does it work? Typically, my clients are referred by a naturopath doctor or a nutritionist who's looking for someone qualified to design a customize diet for their client on a gluten/dairy-free or other food allergen-free diet. I present clients with customized advices, including a 2 week's rotation diet and recipes, specifically tailored to their individual needs.
As an example, recently a mother came to see me about her daughter. In addition to being Type 1 diabetic, she was also allergic to over 80 different food products. I analyzed her diet, interviewed her mother about what she was able or willing to eat, and asked for her daughter's two week detailed food diary.
Through thorough research and consideration for her specific health requirements, I offered my recommendations including a two week rotation diet and provided all the recipes needed for her diet.
All of my food and diet recommendations are specifically tailored to each individual client's needs.
I also authored four health and recipe books designed to help you with regain your health through practical advices and recipes. They are:
- 2009 – "How to Lower Your Cholesterol with French Gourmet Food"
- 2010 – "Living Gluten and Dairy-Free with French Gourmet Food"
- 2011 – "Healthy French Cuisine for Less Than $10/Day"
- 2013 – "Paleo French Cuisine"
All available at Peoples Pharmacy in Austin, TX or online at Amazon.com, Barnes and Noble, Smashwords, Kobo and Apple Bookstore.
See my Books page HERE.
MY SERVICES
Now that you know a little bit more about what I do as a Nutritherapist, I hope I can help you with your particular health challenge.
You can consult me privately or through Peoples Pharmacy at Westlake. Contact me at alainbraux@gmail.com for a private appointment.
Besides private consulting in person or distance (email, phone, Skype), I am also available for:
- Gluten-Free/Casein-Free, Soy-Free and allergen-free food operations (restaurant, cafeteria, hospital, clinic) menu creation and consulting.
- Gluten, Dairy-free, Paleo and Cholesterol-lowering demo or hands-on classes.
- Speaking engagements on Health Food, with or without the creation of a healthy food banquet menu for corporate events or educational establishments.
Please use my Contact page for any communication.
Sincerely and a bientot,
Chef Alain Braux
Nutrition Therapist/Culinary Nutritionist

Enter your email for a FREE health report :