June 27, 2014
2014/06/27 Chef Alain's Weekly Recap – Week Two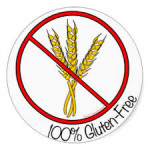 GMO 101 Book Progress
I am currently working on reorganizing all the ingredients from genetically engineered source into a legible and easier to understand list. So far, this list is about 100 pages long. Talk about TMI ;-)
Low Carb Paleo Show with Chef Alain and Mark Moxom
Low Carb Paleo Show #12 < Click here
In it, we have:
– All things GMO including the march against Monsanto.
– How to find out whether or not the food you eat has GMO in it and also how to make better choices.
– We look at the up-and-coming film at 100% Gluten-Free Movie as well as review a book called 35 Coconut Flour recipes
– Alain takes us through how to avoid GMO's when eating out
– We answer the question should a Low-Carb diet always be ketogenic
 This week's Interviews
This week, we had two intriguing guest on the Low Carb Paleo Show
– On Tuesday, we interviewed Michelle Norris, one of the co-founders (Keith, her husband is the other) of PaleoFx 2014, the largest paleo event in the world. After PaleoFx 2014 Austin in April, they will have their first out of town PaleoFx 2014 in Denver, CO. We had a very stimulating discussion.
– On Thursday, we talked to Chris Kerston, a Californian farmer and board member of the Savory Institute. The Savory Institute's mission is "Healing the Land and Prospering through holistic management". Impressive work. He was introduced to us by Taylor of EPIC Protein Bars. Thank you Taylor.
Chef Alain Radio or Webcast Interviews
This week, I was invited by the gracious Australian Food and Wine journalist Sally James, to be on her radio show, the Slow Living Radio Show on Monday June 30, 2014 from 7-8 pm Pacific Time. Coming soon… I'll let you know when it's up.
Chef Alain Blog
New posting: French Cooking with Herbs with Arugula Salad with Fresh Strawberries and Honey Vinaigrette recipe.
Announcement: Special 4th of July Sale on my Ebook: Living Gluten and Dairy-Free with French Gourmet Food at $2.99 Fri-Sun, $3.99 Mon-Tue and $4.99 Wed-Sun. Time are a wasting… J
Comments?
I you have any comments or wish to be added to my email list, contact me at alainbraux@gmail.com
Until next week… I wish you a great week.
Chef Alain Braux
A Votre Santé – To Your Health
 If you like any of my books, can I ask you a favor? Can you post a review on Amazon.com?
Paleo French Cuisine   Gluten and Dairy-Free   Healthy French Cuisine   Lower Cholesterol
Thanks a lot.
Chef Alain