August 7, 2014
Chef Alain's Weekly Recap – Week Eight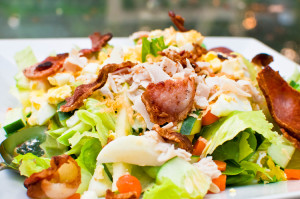 GMO 101 Book Progress: GMO 101 book cover results

That's it! Your voting time is over and the results are in… drum roll please. Cover # 3 is the winner by a large margin, twice as many votes than #1, 2, and 4. #5 got no votes. Sorry #5.
On the book's side, I have send my draft manuscript to some of my fave people for review and a possible endorsement. I hope I can earn the Foreword by my all time favorite… well, I can't tell you yet. It's a secret. But if he/she agrees, I would be deeply honored. More to come…
Chef Alain Posted Articles
Healthy Organic Woman, Issue #47 – August 7, 2014: Are GMOs Making Your Furry Friends Sick?
Have you ever wondered, like me, why our pets are suddenly getting human sicknesses like heart, kidney or liver diseases – to mention a few?
Low Carb Paleo Show 016 with Chef Alain and Mark Moxom: Nathalie and Rebecca at YAWPS! Paleo Bars.
In this episode we find out how Rebecca Myers and Nathalie Cartier followed their hearts and mission to create a healthy and tasty snack that was perfect for Low Carbers and Paleo followers.
CHEF ALAIN's WEEKLY RECIPE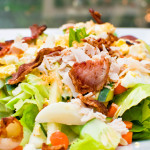 Salade du Chef avec sa Sauce Crémeuse à l'Aneth. Chef's Salad with Creamy Dill Dressing
This lighter and more colorful version of the traditional Chef's Salad is a whole summer meal in itself. The coconut milk may surprise you here, but you'll see. it makes for a wonderfully creamy dressing. If you feel in the mood, top it off with oven-baked bacon pieces.

Servings: 4
Prep Time: 20 min
Cost per person: $3.75
INGREDIENTS
For the salad:
8 cups mixed salad greens (about 4 ounces)
1 cup carrots (about 2 carrots), shredded
1/2 red onion, peeled and sliced thin
1 yellow bell pepper, cut in half, seeded and sliced
10 cherry tomatoes, cut in halves
4 oz oven-roasted turkey, cubed
4 slices natural Swiss cheese, cut up (about 2 ounces)
For the dressing:
3 Tbsp olive oil
1 Tbsp apple cider vinegar
1/4 cup mayonnaise
2 Tbsp coconut milk, full fat
1 small shallot, peeled and chopped
1 Tbsp fresh dill, chopped (or 1 tsp dried dill seeds)
1/4 tsp sea salt
Ground pepper to taste
PROCEDURE
1. Salad: Toss greens, carrots, onion, bell pepper and half of the dressing in a large bowl until coated. Divide between plates. Arrange tomatoes, turkey and cheese on top of the salad. Drizzle with more dressing.
2. Dressing: In your blender's bowl, place all the ingredients in proper order. Blend well until smooth. If needed, adjust consistency with additional coconut milk.
= If you feel Paleo-crazy, feel free to add real bacon pieces of top.
This recipe comes from my book: Healthy French Cuisine for Less Than $10/Day
New Postings on my Facebook page, Chef Alain Braux
Comments?
I you have any comments or wish to be added to my email list, contact me at alainbraux@gmail.com
Until next week, I wish you a great week.
Chef Alain Braux
A Votre Sante – To Your Health
Note: If you like any of my books, can I ask you a favor? Can you post a review on Amazon.com?
Paleo French Cuisine   Gluten and Dairy-Free   Healthy French Cuisine   Lower Cholesterol
Thanks a parsley bunch. Chef Alain