December 10, 2014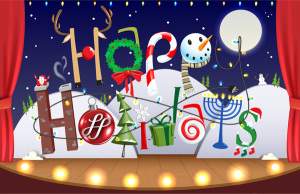 Chef Alain's Weekly Recap – Week 26
Happy Holidays to all my readers and followers.
Thank you for your support.
Chef Alain's Blog

Why this current obsession for coconut oil? Looked askance by dieticians for a long time because of its high content of saturated fat, coconut oil or fat can be found nowadays on the shelves of all health stores and even show themselves in supermarkets. Why? … MORE
Low Carb Paleo Show with Chef Alain and Mark Moxom
LCPS 029:  Kendall Kendrick is the founder of Primal Balance, the mom to four girls, a Nutritional Therapy Practitioner, a voice actor, motivation speaker and host on the ever popular Born Primal Show. Yet for years she has faced many health challenges that almost beat her. Listen to our interview HERE.
Chef Alain's Video of the Week
The other night, I went to chef Dan Barber's presentation of his new food concept, The Third Plate. Here's the video of the property and farm, Stone Barns Farm … See the video HERE.
Chef Alain's Radio Interview
This week, I was invited to give my opinion on food and health, sustainability, special non-allergenic diets and GMOs.
Chef Alain's Facebook
To see what I posted this week on Facebook, see Chef Alain Braux
Chef Alain's Weekly Recipe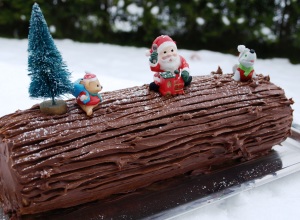 Buche de Noel Facile – Easy Christmas Log



Preparation time: 30 minutes
Baking time: ~25 minutes
Servings: 4
Ingredients
4 egg yolks
5 oz powdered sugar
4 Tbsp warm water
1 tsp vanilla extract
4 egg whites
1 pinch salt
2 Tbsp sugar
3.5 oz cake flour
1 tsp baking powder
9 oz – 70% dark chocolate
7 oz butter
Procedure
Preheat your oven at 400F.
1. Whisk together 4 egg yolks with powdered sugar, 3 Tbsp warm water and vanilla extract until foamy.
3. Start whipping your egg whites with a pinch of salt and sugar at medium speed.
4. Mix flour and baking powder.
5. Increase mixer's speed to high to whip your egg whites until firm.
6. Fold your flour mix into your egg yolk mix gently. Add firm egg whites and fold gently.
7. Spread evenly on a baking pan lined with wax paper. Bake for about 15 minutes or until golden color.
8. Peel the biscuit off the paper. Cover with a humid towel to keep it moist.
9. Melt your chopped chocolate in a bain-marie until barely melted.
10. Whisk in the butter at room temperature until it forms a buttercream. If the chocolate was too hot, place in your refrigerator for a while to cool down and whip again until spreadable.
11. Spread 3/4 of your chocolate buttercream on the biscuit (on top of rum syrup if you decide to use that – see note below)
12. Roll your biscuit tight with the help of your towel. Unroll. Place on a serving platter.
13. Cover with the remaining chocolate butter cream and decorate with a fork imitating the bark of a log.
14. Sprinkle with powdered sugar to imitate snow and add any Christmas candy or meringue mushrooms to decorate. See picture.
Chef's tip: You can brush your biscuit with sugar syrup (1/2 water + 1/2 sugar boiled and cooled) flavored with your favorite liquor. For example, rum goes well with chocolate
Note: This recipe is NOT gluten-free but can be made so by using your favorite gluten-free flour instead of cake flour.
Comments?
If you have any comments or wish to be added to my email list, contact me at alainbraux@gmail.com
Until next week, I wish you a great week.
A Votre Sante – To Your Health
Chef Alain Braux
Note: If you like one of my books, can you post a review on Amazon.com? Thanks!
GMO 101  Paleo French Cuisine   Gluten and Dairy-Free   Healthy French Cuisine   Lower Cholesterol Cocina Francesa Saludable Por Menos de $10 dolares por dia
Merci! Chef Alain