November 24, 2014

Chef Alain's Weekly Recap – Week 24
Chef Alain's Blog

Saturated fats: finally, the wind turns in our favor! For years I have been saying the opposite of what was said by official health authorities on saturated fats. They told you to avoid saturated fats found in butter, meat, eggs,animal fats and tropical oils… MORE.
Healthy French Cuisine in Spanish
Cocina Francesa Saludable Por Menos de $10 dolares is HERE.

Low Carb Paleo Show with Chef Alain and Mark Moxom
LCPS 027: This week, Mark and I interview Julie Urlaub is the author of The Business Sustainability Handbook, Founder of Taiga Company and one of the top thought leaders in sustainability… HERE 
Coming soon: Last week, we had the pleasure to talk to Juli Bauer of PaleOMG fame. Her full interview is coming to LCPS soon.
Chef Alain's Video of the Week
New Science Destroys the Saturated Fat Myth TED Talk by Nina Teicholz… HERE.

Chef Alain's Facebook
To see what I posted this week on Facebook, see Chef Alain Braux
Chef Alain's Weekly Recipe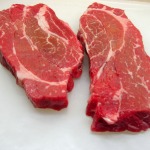 Bifteck Mariné à la Provençale – Provencal Marinated Flank Steak
Here's a wonderful way to flavor as well as tenderize your favorite piece of meat. I use flank steak as an example here but it does not have to be your only choice. Pick your own meat depending of what cooking method you wish to use. With a nice side salad, you have a tasty and quick meal.
Servings: 4
Preparation Time: 10 minutes
Cooking Time: 10 minutes
Total Time: 20 minutes
Ingredients
1 lb flank steak
Marinade:
2 Tbsp Herbes de Provence mix
2 garlic cloves, minced
1 tsp sea salt
½ tsp cayenne pepper
1 fresh lemon juice
3 Tbsp extra virgin olive oil
Procedure
1. Whisk together all of the marinade ingredients in a small bowl.
2. Pour into a Zip Lock bag. Add meat. Shake well to make sure the marinade covers all sides of the meat.
3. If you will cook it today, allow to marinade at room temperature for 2 hours (the flavors sink better at room temp). Otherwise let marinade overnight in your refrigerator.
4. Allow to come to room temperature for one hour before you cook your meat. You could pan fry or broil your meat until cooked to your satisfaction. Allow to rest a few minutes then cut thin slices against the meat's grain.
4. You can serve on its own, in a fajita, or sliced over a salad.
Chef's tip: To keep things simple, you can use your favorite spice blend: French, Italian, Cajun, etc.
Note: This recipe comes from my book, Paleo French Cuisine.
Comments?
If you have any comments or wish to be added to my email list, contact me at alainbraux@gmail.com
Until next week, I wish you a great week.
A Votre Sante – To Your Health
Chef Alain Braux
Note: If you like one of my books, can you post a review on Amazon.com? Thanks!
GMO 101  Paleo French Cuisine   Gluten and Dairy-Free   Healthy French Cuisine   Lower Cholesterol Cocina Francesa Saludable Por Menos de $10 dolares por dia
Merci! Chef Alain