July 3, 2014
2014/07/04 Chef Alain's Weekly Recap – Week Three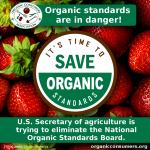 Bonjour Y'all
I hope you had a great week and are getting ready for a wonderful 4th of July celebration not to mention the France-Germany quarter finals soccer match.
GMO Training with Jeffrey Smith
I am excited to tell you that this past Sat and Sun, I took an intense training session with Jeffrey Smith, founder of the Institute for Responsible Technology, the top dog in the anti-GMO world during his GMO Speaker Training. There was a ton of information. It will take me a little while to absorb it all. But it will be tremendously helpful in finishing my upcoming book GMO 101 with the latest information. Thank you Jeffrey :-)
GMO 101 Book Progress
Speaking of my book… it was a little slow going this week as I was studying and absorbing all the incredible information I learned during this past weekend's GMO training.
Low Carb Paleo Show with Chef Alain and Mark Moxom
Low Carb Paleo Show 13 – Alain and Mark interview Heather Jacobsen, the voice behind Stuffed Pepper.com.
Heather takes us on her journey to becoming paleo and the gluten-free in order to rid herself of debilitating and potentially life-threatening problems. Like thousands of others she was told by doctors that she had no problem with gluten and in fact the problem was all in her head. Much more on our podcast…
This past Tuesday, we conversed with a very knowledgeable young man, Christopher VanBerg, a health Life Coach and author of the upcoming Think Great, Lose Weight book. He impressed us with his nutritional knowledge and his philosophy on life. Coming soon to the Low Carb Paleo Show.
Chef Alain Radio or Webcast Interviews
This past Monday, I was interviewed by Sally James and her partner on the Slow Living Radio Show. They were wonderful hosts and we chatted about my transition from a French pastry chef to a chef-nutritionist offering gluten-free and Paleo dishes and desserts to our customers. We also talked a bit about GMOs and its effects on our health.
Chef Alain Posted Articles
My article French Cooking with Herbs was accepted on LinkedIn.
Chef Alain's Weekly Recipe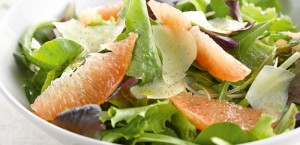 Salade de Mesclun aux Pamplemousses avec Croutons. Mixed Field Greens Salad with Grapefruit and Croutons
The mesclun salad mix was invented by the monks of the Cimiez monastory in Nice. One of them decided to grow an assortment of local salad seeds in their "potager" (kitchen garden), then harvest them while still young and serve them with a drizzle of olive oil. It became customary to offer a basket of mesclun to their benefactors as a thank you gift. I like this salad for its lightness and freshness. It does not use vinegar but citrus fruit juice for the acidity in the vinaigrette. It is loaded with vitamin C and chlorophyll.
Servings: 4
Prep Time: 15 min.
INGREDIENTS
1 pound of mixed field greens or one premixed bag
2 grapefruits, peeled and quartered
½ of a rustic baguette bread, sliced
2 garlic cloves, peeled and minced
½ cup freshly squeezed grapefruit juice
½ cup freshly squeezed lime juice
1 cup extra virgin olive oil
½ tsp sea salt
¼ tsp black pepper
PROCEDURE
Croutons
1. Slice the baguette bread into thin slices. Toast them lightly and rub with a garlic clove cut in half. Continue toasting to your taste.
Vinaigrette
2. Squeeze and strain the grapefruit and lime juice into a small mixing bowl. Add the salt and freshly ground black pepper. Stream in the olive oil while whisking the vinaigrette.
To finish the salad
3. Place the salad in a salad bowl.
4. Peel and quarter the grapefruit on top of the greens.
5. Drizzle the vinaigrette over it. Toss gently. Decorate with the garlic croutons.
Note: This recipe is not gluten-free. If you take the croutons, out it will become GF.
This recipe comes from my book, How to Lower Your Cholesterol with French Gourmet Food
Comments?
I you have any comments or wish to be added to my email list, contact me at alainbraux@gmail.com
Until next week, I wish you a great week.
Chef Alain Braux
A Votre Sante – To Your Health
Note: If you like any of my books, can I ask you a favor? Can you post a review on Amazon.com?
Paleo French Cuisine   Gluten and Dairy-Free   Healthy French Cuisine   Lower Cholesterol
Thanks a bunch. Chef Alain