February 12, 2011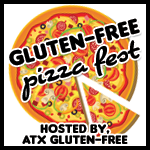 This pizza is my favorite way of using leftover ratatouille. I usually make a big pot and always have leftovers so, one day I thought to myself (I do talk to myself once in a while – don't you): "How can I use that ratatouille leftover I have from last night?" and I came up with this easy, quick and GFCF way of treating myself… a ratatouille pizza. All you need is a GF pizza crust from Gluten-Free Kneads or Udi's (all available at PeoplesRx Westlake), ratatouille leftovers (you can even buy some at your favorite store) and your favorite cheese or cheese substitute. Personally, I like it best without cheese. I just drizzle a little extra virgin olive oil on top when it comes out of the oven. The ratatouille recipe is from my last book, "Living Gluten and Dairy-Free with French Gourmet Food"
Ratatouille
This wonderful dish is the essence of Provence. The best time to prepare it is in the Summer when the tomatoes are full of flavor. If you want to prepare it at other times, I recommend using Muir Glen organic crushed tomatoes with basil. I know, it's a sacrilege, but it helps you savor this dish in all seasons. You can savor ratatatouille as a main dish, soup, side dish, or as a great pizza topping. Here's the version Helene taught me. Enjoy!
Servings: 4. Prep Time: 20 min. Cooking Time: 1 hour
This recipe is GFCF
Ingredients
- ½ cup vegetable broth
- 3 Tbsp extra virgin olive oil
- 1 medium white onion, peeled and cut in half moons
- 2 garlic cloves, minced
- 1 small green bell pepper, cut in thin slices
- 1 small red bell pepper, cut in thin slices
- 3 small eggplant, cut into 1 inch pieces
- 3 medium zucchini, cut into 1 inch pieces
- 3 large perfectly ripe tomatoes, or 1-28 oz Muir Glen Organics crushed tomatoes with basil
- 3 oz tomato paste (skip if you use ripe fresh tomatoes)
- ½ cup red wine (the secret ingredient)
- 1 Tbsp fresh parsley, chopped fine
- 1 Tbsp fresh basil, chopped fine
- 1 Tbsp Herbes de Provence blend
- 1 tsp sea salt
- ½ tsp freshly ground black pepper
Procedure
1.      Peel and chop onions and garlic. Toss together in a bowl and let sit for 5 min.
2.      Cut green and red bell peppers, take the seeds out, cut in four sections and slice thin.
3.      In a large skillet or pot, heat the vegetable broth and olive oil over medium-high heat; add the onions, garlic and bell peppers and sauté for 5 minutes, or until tender.
4.      Add the eggplant, zucchini and tomatoes (or canned tomatoes); mix well and cook for 10 more minutes until they start to soften.
5.      In a separate bowl, mix the tomato paste and red wine together. Stir in the parsley, basil, Provence herbs and spices.
6.      Add this flavorful mix to the vegetables and stir well. Lower the heat to simmer and continue to cook, covered, one more hour until all the vegetables are melted, like a stew or thick soup.
7.      Serve in white porcelain bowls to show off the ratatouille's bright colors (remember, we eat as much with our eyes as with our mouth) and sprinkle with a few fresh parsley leaves.
To finish your ratatouille pizza:
- Preheat your oven at 400F. If you're lucky and have a pizza or bread stone, by all means, use it. It will give you a crunchy bottom crust while keeping the top soft.
- Sprinkle some corn meal on top of a wooden peal or flat (upside down sheet pan) and place your frozen GF pizza crust on top.
- Top with the ratatouille. Add your favorite cheese.
- Bake 10-15 minutes until the bottom crust is slightly charred. Enjoy!