July 3, 2015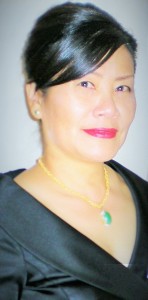 Chef Jocelyn Lee
I am excited & honored to be a guest chef on Chef Alain's A Votre Sante–To Your Health Newsletter. Merci beaucoup!
Chef Jocelyn's Culinary Story
Born & raised in San Francisco, California – I was influenced by my mother's passion & discipline for traditional yet broad Asian-fusion home cooking made from scratch with fresh produce & unprocessed foods. As my father ran his business in San Francisco's Italian North Beach District, my mother worked 2 part-time jobs in S.F.'s Union Square & Chinatown. In between her jobs, she would come home & prepare complete elaborate dinners for our very large family, including my grandfather! Being the "Cinderella" of the household, I took responsibility of household chores to relieve my mother and oftentimes prepped & cooked family dinners per her instructions & techniques. Immersed in San Francisco's diversity of cultures, we enjoyed & learned appreciation of cuisines from all over the world.
Cooking overseas
I lived overseas for many years and cooked with amazing local cooks & chefs in Nepal, India, Singapore, Hawaii, and Thailand. In Nepal, I opened & operated a health food restaurant-juice bar-bakery serving foreign consulates, mountain trekkers & tourists, WHO team members, Peace Corps workers, and diplomats…international airlines inflight magazines and travel guide publications wrote raving reviews on this establishment.
Back in California
In Marin County, California I founded and operated 2 full service Fine Dining Japanese Cuisine Restaurants serving celebrities, rock stars, politicians & renowned dignitaries whilst earning 4 out of 4 stars & glowing accolades by San Francisco's restaurant critics. Food safety always in the forefront, I wrote the first restaurant-retail HACCP plan validated by MCED.
Chef Jocelyn's company: Gourmet Rail Services
Later, my company Gourmet Rail Services, contracted with Amtrak California for 14 years as its exclusive preferred caterer-general services vendor earning high ratings & mentions by critics for fresh & restaurant quality food. I am now a freelance Culinary Development-Quality Assurance-Nutrition Value Analyst proudly working with San Francisco's artisan gourmet food companies.
For complete details of my professional highlights, please visit LinkedIn at:
https://www.linkedin.com/in/gourmetinmotionjlee