February 10, 2011
Wheat Nothings
A gluten-free Valentine's Day
By Kate Thornberry, Fri., Feb. 11, 2011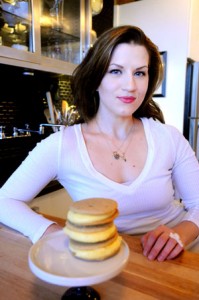 Karen Morgan of Blackbird Bakery
Photo by John Anderson
There was a time when so little was generally known about gluten intolerance that sufferers of celiac disease hardly dared to eat at   restaurants. But as the number of people affected by celiac sprue has skyrocketed, due in part to more accurate diagnosis of the condition, restaurants are becoming more knowledgeable about the disorder and increasingly able to accommodate those affected by it.
Essentially, those suffering from gluten intolerance and celiac disease cannot ingest wheat, barley, rye, or any other grain containing the gluten protein. In some cases even the tiniest speck of gluten can result in serious gastric distress and allergic inflammation lasting for days. Avoiding foodstuffs obviously made with wheat is not enough; professional cooks often use wheat flour to make roux, thicken sauces, add body to soups, and dredge meats prior to sautéing or grilling. In order to safely feed the gluten-intolerant, chefs must learn to avoid all the many ways that gluten can sneak into food (including the use of prepared products, such as soy sauce, which is usually made with both soy and wheat).
Fortunately, there are dozens of grains that are perfectly safe, and many chefs are switching to these – corn, quinoa, arrowroot, rice, and chickpea flour, among others – to thicken sauces and dredge meats and seafood. In the process, menus are becoming much friendlier to the gluten-intolerant, and there's a lot more variety out there to enjoy.
Gluten-free treats from Beets Living Foods Cafe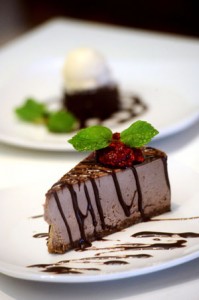 Photo by John Anderson
So much so that it's impossible to list every place in town that is willing and able to cater to the gluten-intolerant. Many Austin restaurants have dedicated gluten-free menus, myriad gluten-free menu items, and even kitchens that are entirely gluten-free, but that's just the tip of the iceberg; if there's some place you'd like to try, give them a call and ask the manager or chef if they can accommodate your dietary restrictions. You'll be surprised at how many of them are both knowledgeable and eager to assist.
For my research, I asked several of Austin's most prominent gluten-free lifestyle experts – Sarah Rodenberg (www.glutengirlinaustin.com), Karen Morgan (www.blackbird-bakery.com), and Jessica Meyer (www.atxglutenfree.wordpress.com) – what restaurants they would recommend from their own experience as being reliable, as well as appropriate for a romantic Valentine's Day celebration. I then followed up by talking to the chefs and restaurateurs to make sure that the information was accurate and up-to-date. The resulting list of 24 restaurants is in "Highfalutin Without the Gluten Roulette."
Generally speaking, the finer the dining (and by that I unfortunately do mean the more expensive a place is), the more likely you can safely eat a glorious, memorable, gluten-free meal. Names that came up repeatedly include TRIO at the Four Seasons, Uchiko, parkside, Wink, Eddie V's, Fino, Asti, the Carillon, and La Condesa. There are many midrange places, however, that are stepping up: Chez Zee, Eastside Cafe, Corazon at Castle Hill, Kenichi, Gumbo's of Westlake, Mirabelle, and Fonda San Miguel all merited several mentions as well. Some of the favorites on the less-expensive end of the continuum include Maudie's, the Steeping Room, the Brick Oven Restaurant on Brodie, and Las Palomas.
At least four local establishments will be hosting Valentine's dinners with special prix fixe menus tailored to the gluten-intolerant:
• For celiac sufferers who are extremely sensitive (and some can have a violent reaction to even a few parts per billion of gluten), Wild Wood Art Cafe, Austin's first entirely gluten-free bakery and restaurant, will be hosting a "gluten-free gourmet" Valentine's dinner on Saturday, Feb. 12. Entrée choices include grilled red snapper with beurre blanc, rack of lamb, chicken roulade and vegan mushroom risotto, along with appetizers, lemon soup, and dessert. Reservations are necessary, but management has kindly extended the reservation deadline an extra day for Chronicle readers.
• Beets Living Foods Cafe, best known for catering to raw food aficionados, happens to boast a gluten-free premises as well. Owner Sylvia Heisey and chef Alicia Ojeda will be putting on a special four-course Valentine's dinner – pine-nut-pilaf-stuffed dolmas, Caesar salad with carrot croutons, ravioli with macadamia cream herb sauce, and a dessert plate – for an affordable $75 per couple. Ojeda is an inspired and passionate raw foods chef, and this dinner promises to be a culinary triumph, as well as completely and utterly gluten-free (and raw!). Reservations required.
• Corazon at Castle Hill will present a three-course prix fixe menu on Valentine's Day that is overwhelmingly gluten-free (six out of seven entrées), including dishes such as roasted half rack of lamb, Moulard duck enchiladas, and beef tenderloin with a Cognac and portobello sauce. If you can't get a reservation for that night (and Corazon is often booked weeks in advance), chef Mike Taddeo assures me he'll be adding the gluten-free entrées to the regular menu for several weeks.
• Mirabelle will offer an affordable three-course prix fixe dinner ($59 a person) on both Saturday the 12th and Monday the 14th, more than half of which is entirely gluten-free. Options include lump blue crab timbales, Kobe beef carpaccio, seared sea scallops, pomegranate-glazed duck, and gar­lic grilled jumbo shrimp. Gluten-free des­serts include crème brûlée, sorbet trio with fresh fruit, and flourless chocolate torte.
The options for a lovely, gluten-free Valentine's dinner out at a romantic restaurant have never been so plentiful!
Book Signing Event
Join Alain Braux for practical advice on switching to a gluten-free lifestyle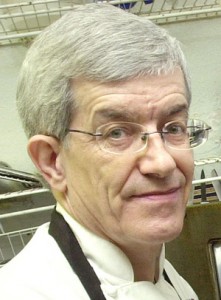 By Kate Thornberry, Fri., Feb. 11, 2011
Photo by John Anderson
Chef Alain Braux, signing his popular book Living Gluten and Dairy-Free With French Gourmet Food
Favorably reviewed by The Austin Chronicle in our "Books for Cooks 2010" holiday gift guide (Nov. 26, 2010), this practical    guide not only includes timeless recipes, but also contains an invaluable index of hidden sources of gluten and dairy, as well as practical advice about making the switch to a gluten-free lifestyle. Braux himself will be on hand to discuss his timely, informative book and answer questions; he'll also provide free samples of his fabulous flourless chocolate torte, and Sarah Bartholow of Dallas-based company Hail Merry will offer samples of several of her company's vegan and gluten-free treats. A wonderful opportunity to meet one of Austin's gluten-free luminaries. (BookPeople, 603 N. Lamar, Monday, Feb. 14, 7-9pm.)
Gluten-Free Edible Gifts
Mmmmmm, chocolate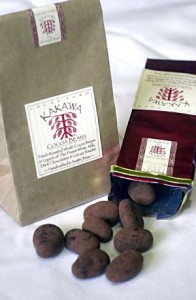 By Kate Thornberry, Fri., Feb. 11, 2011
Photo by John Anderson
Cocoa Puro Kaka'wa Cocoa Beans
The world's finest fresh roasted cocoa beans are covered with layers of dark, white, and milk chocolate, then rolled in velvety cocoa.  These Austin-made confections have won so many awards (including being named a Top 100 favorite in Saveur magazine) that there literally isn't room here to list them all! Available online and at the Saturday morning Downtown Sustainable Food Center Farmers' Market, Saturday, 9am-1pm ($6, $12, $24).
Miles of Chocolate
Austin's own Miles of Chocolate has introduced a gluten-free version of its insanely decadent chocolate confection. Available exclusively at Whole Foods Market's Candy Island ($15/pound).
Delysia Chocolatier
These stunning collections of screenprinted chocolate truffles are a feast for the eyes as well as the appetite. The Valentine's Collection ($20) and the Wine Collection ($27) are both gluten-free and available all Breed & Co. locations, as well as Antonelli's Cheese Shop. Online shoppers can access even more variety, as 90% of Delysia's products are gluten-free.
Gift Card for Tèo Espresso, Gelato & Bella Vita
Tèo makes some of the best gelato around, but more importantly, Tèo is hyperaware of concerns with celiac disease. The gluten-free gelatos always have a dedicated scoop, and the staff always knows which gelatos are worry-free.
Cherry Heart Art Candy by Hammond's
Packaged in shiny-red lips-shaped boxes, this gluten-free version of the classic confection (the little hearts with the corny sayings) is also available at Whole Foods Market's Candy Island ($7.99).
Confituras Gift Box
After winning a Good Food Award last month in San Francisco, Stephanie McClenny probably doesn't even want any more press! But all of my gluten-free experts expressed a Valentine's wish for a gift box of Confituras preserves. Available online or at the SFC Downtown Farmers' Market, Saturday 9am-1pm ($10-35).
Edis' Chocolates
Local chocolatier Edis Rezende's award-winning handmade truffles are always gluten-free. Available directly from Rezende at the Barton Creek Farmers Market, Saturday, 9am-1pm ($10/half-dozen, $20/dozen).
Peoples Rx's Chocolate-Covered Organic Strawberries
Chocolate-covered strawberries are ubiquitous this time of year, but Peoples Rx has always gone the extra mile to offer gluten-free Calle­baut dark chocolate and organic strawberries ($10/half-dozen, $18/dozen).
Book Review
This ambitious book was practically written to order for the gluten-free Valentine's Day market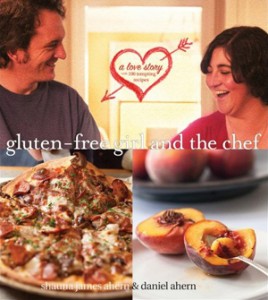 By Kate Thornberry, Fri., Feb. 11, 2011
Gluten-Free Girl and the Chef
by Shauna James Ahern and Daniel Ahern John Wiley and Sons, 288 pp., $29.95
A compendium of innovative gluten-free recipes interwoven with a real-life love story, this cookbook combines all the elements of love and romance with learning to live a gluten-free life. It was practically written to order for the gluten-free Valentine's Day gift market!
Shauna James (otherwise known as "Gluten-Free Girl" on her nationally popular blog: www.glutenfreegirl.com) met and fell in love with chef Danny Ahern, who subsequently converted his entire restaurant to gluten-free status so that his true love could eat there. He taught himself how to create completely gluten-free cuisine, and she learned the techniques and attitudes necessary to make chef-driven cuisine at home. Together they wrote this cookbook – named one of the best of 2010 by The New York Times – full of memorable stories and vignettes, combined with the recipes they used to woo each other during their courtship.
It's an ambitious book, and it might be initially a little intimidating in scope; the recipes for the most part are for restaurant-quality fare. But one idea shines out very brightly: Just because you must eat a gluten-free diet, that's no excuse for letting yourself feel deprived, ever. Instead, the authors take you on a giddy journey of discovery, embracing an entire world of food that the gluten-intolerant can enjoy. Rather than focusing on what you can't have, this book turns the focus to all the wonderful flavors that are just waiting to be discovered. And if you chose to woo someone with it – so much the better!
Karen Morgan made it her mission to make fabulous gluten-free versions of every baked item in her repertoire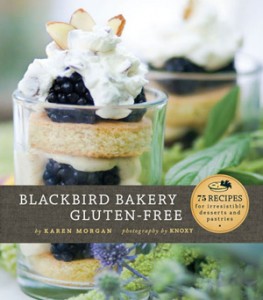 By Kate Thornberry, Fri., Feb. 11, 2011
Blackbird Bakery Gluten-Free
by Karen Morgan Chronicle Books, 224 pp., $24.95
It can break a gluten-intolerant person's heart to give up baked goods. Cake, cookies, brownies, pie, biscuits, breads – the list is depressingly long. But do you really have to give them up? Manufacturers have stepped up to bridge that gap in recent years, introducing some gluten-free bakery items, and the problem of baking gluten-free has been taken up by pastry chefs, bloggers, and frustrated home cooks. As a result, gluten-free options have become better and better. This book represents the pinnacle of gluten-free home baking thus far; the confections and treats these recipes make are virtually indistinguishable from their glutenous counterparts.
Austinite Karen Morgan, a lifelong baking enthusiast, was among the heartbroken when she was diagnosed with celiac disease. Being a baking snob, however, she refused to accept sorry substitutes, and she made it her mission to find a way to make fabulous gluten-free versions of every baked item in her repertoire. Her single-minded focus paid off: Before long her creations were being sought, not just here, but by national celebrities including Courteney Cox, Laura Dern, Ben Harper, and Jenni­fer Esposito. This led to a book deal, the fruit of which is this cookbook. It's a gorgeous book, clear and effectively laid out, with lots of inspiring (and mouthwatering) photographs. Morgan's unique flour combinations, simplified techniques, and cutting-edge ideas represent a genuine revolution in gluten-free baking.
Highfalutin Without the Gluten Roulette
The eateries listed below all have gluten-free options, some offer 100% gluten-free menus, and they are all sensitive to dietary restrictions in general. Enjoy your gluten-free Valentine's!
---
Estimated meal cost per person:
$=<$10
$$=$10-25
$$$=$25-40
$$$$=$40+
---
DOWNTOWN
Beets Living Foods Cafe Austin's premier raw food spot, Beets serves gluten-free all year long. 1611 W. Fifth #165, 477-2338. www.beetscafe.com. $$
Corazon at Castle Hill The offspring of the well-loved Castle Hill Cafe has a refocused menu, but regulars are glad that what wasn't broken remains. Look for Mexico-centric dishes and top-notch service, with numerous gluten-free options. 1101 W. Fifth, 476-0728. www.corazonatcastlehill.com. $$
La Condesa Chef Rene Ortiz and pastry chef Laura Sawicki whip up neo-Mexican cuisine, as well as gluten-free options, as this 2nd Street District anchor sets a new standard for local dining. 400-A W. Second, 499-0300. www.lacondesaaustin.com. $$$
Parkside Simple surf and turf in a bistro setting, with a full oyster and raw bar, amazing mac and cheese, gluten-free menu options, and great desserts. Stop by for dinner and the late-night scene or a quick prowl through the half-price bar menu at happy hour. 301 E. Sixth, 474-9898. www.parkside-austin.com. $$$
P.F. Chang's China Bistro Depend on this popular chain for upscale Chinese favorites, a dedicated gluten-free menu, and enthusiastic service in a pleasant atmosphere. 201 San Jacin­to, 457-8300. www.pfchangs.com. $$
TRIO at the Four Seasons Look out over Lady Bird Lake, and transcend the usual hotel-dining scene. The focus is on unusual and creative preparations of appetizers, side dishes, terrific steaks, and seafood, with an extensive gluten-free menu. Dinner charms with romantic lighting and efficient service. 98 San Jacinto, 685-8300. www.trioaustin.com. $$$$
EAST
Eastside Cafe This well-established place has been serving some of the healthiest food on the Eastside for quite a long time. The large herb and vegetable garden in back makes for fantastic fresh plates, and a dedicated gluten-free menu makes it fun for everyone. 2113 Manor Rd., 476-5858. www.eastsidecafeaustin.com. $$$
NORTH
Apothecary boasts a strong selection of artisanal cheeses, charcuterie, salads, homemade soups, and sandwiches. Gluten-free paninis and salads round out the menu. Wine list changes monthly. 4800 Burnet Rd. #450, 371-1600. www.apothecaryaustin.com. $$
Asti For varied Italian regional cuisines and an extensive wine list of mostly Italian and Cal-Ital selections, try this Hyde Park corner spot. 408-C E. 43rd, 451-1218. www.astiaustin.com. $$$
Chez Zee Regulars and novices alike have been flocking to this bistro for 10 years running thanks to its 20 wicked dessert options. Fourteen gluten-free menu items mean everyone can go out for dinner. 5406 Balcones, 454-2666. www.chezzee.com. $$$
Daily Juice Cafe Looking for a healthy brunch? Everything on the menu here is composed of raw vegetable matter of one kind or another, and the gluten-free baked goods are terrific. 4500 Duval St., 380-9046. www.dailyjuice.org/pages/cafe. $$
Fonda San Miguel offers traditional Interior Mexian cuisine, including several gluten-free choices. Try the Angels on Horse­back, or just show up for the famous Sunday brunch. 2330 W. North Loop, 459-4121. www.fondasanmiguel.com. $$$$
Mirabelle Northwest Hills neighbors have embraced this casual fine-dining spot, and wine lovers from all over town make it a destination restaurant. Gluten-free dieters will find plenty here to make them happy, too. 8127 Mesa, 346-7900. www.mirabellerestaurant.com. $$$
P.F. Chang's China Bistro Depend on this popular chain for Chinese favorites and enthusiastic service in a pleasant atmosphere. 10114 Jollyville, 231-0208. www.pfchangs.com. $$
The Steeping Room Tearooms are making a comeback, just in time for moist cupcakes and delicate tea sandwiches. You'll find a selection of small plates, salads, and daily soups here, as well as gluten-free menu items and heavenly gluten-free desserts. The Domain, 11410 Century Oaks Terrace #112, 97-STEEP. www.thesteepingroom.com. $$
Uchiko Chef-driven sushi and Japanese and original Asian cuisine, including gluten-free items, is served in a posh atmosphere. 4200 N. Lamar #140, 916-4808. www.uchikoaustin.com. $$$
SOUTH
Barley Swine This small gastropub offers small plates of skillfully prepared seasonal and local foods, including several gluten-free options. 2024 S. Lamar, 394-8150. $$
Brick Oven Restaurant This isn't just some of the best pizza in town; there's a full menu of gluten-free options complementing the traditional, filling pasta dishes, all with a personal touch. Also a fantastic GF carrot cake by the slice that tastes like the real thing. 9911 Brodie, 292-3939. www.brickovenrestaurant.com. $$
Vespaio A comfy bar, great service, and a dazzling display of antipasti near the front door lure us in, and the pasta and heirloom tomatoes do the rest. And if gluten-free pasta is what you're after, you'll find plenty of it here. 1610 S. Congress, 441-6100. www.austinvespaio.com. $$$
WEST
Gumbo's of Westlake offers an extensive gluten-free menu, featuring swanky Cajun specialties such as blackened and grilled seafood, beef tenderloins, and seafood appetizers. 3600-D Capital of TX Hwy. N., 328-4446. www.gumboswestlake.com. $$$
Las Palomas Twenty-five years young and still serving up delicious Interior Mexican in a lovely setting. The empanadas, frijoles a la charra, beef tenderloin, and anything with mole sauce are not to be missed. Also check out the extensive gluten-free menu. 3201 Bee Caves Rd. #122, 327-9889. www.laspalomasrestaurant.com. $$
Wild Wood Art Cafe Finally, a health-conscious menu dedicated to the nutritional well-being of people whose choices are limited by food allergies and medical restrictions. Find fresh, well-prepared breakfasts and lunches featuring gluten-free salads, sandwiches, and entrées. 3663 Bee Caves Rd. Ste. 4-A, 327-9660. www.wildwoodartcafe.com. $
UT AREA
The Carillon Executive Chef Josh Watkins prepares upscale, modern American cuisine in a lavish setting. Try one of the gluten-free entrées. 1900 University Ave., 404-3655. www.thecarillonrestaurant.com. $$$
Fino Influences from Nice to Casablanca and Naples to Athens are all ably executed here by chef Jason Donoho. You'll also find plenty of gluten-free options. 2905 San Gabriel, 474-2905. www.astiaustin.com/fino. $$$